Dermatologist with Oncology Interest - University of AZ Cancer Center
Tucson, AZ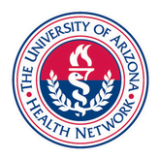 Banner - University Medical Center Tucson
Banner Health
Be A Part of the Nation's Most Awarded Health Systems
We're currently seeking a BC/BE DERMATOLOGIST with expertise and/or interest in the evaluation and treatment of patients at risk for skin cancer. This individual will be considered a member of the Arizona Cancer Center Skin Cancer Institute & Multidisciplinary Cutaneous Oncology Program and will have the opportunity to develop specific areas of clinical and translational research. Please note, there is not a Mohs surgical component to this position.
Call for 2 consecutive weeks every 6-8 weeks
Academic responsibilities to include teaching in the medical school & medical oncology fellows
Must be BC/BE in Dermatology
The Division of Dermatology at the University of Arizona College of Medicine – Tucson provides outstanding clinical care to patients. Our team of dermatologists specializes in diagnosing and treating a wide range of skin diseases and managing both benign and malignant skin tumors and inflammatory conditions. Our residency program provides comprehensive training in medical and surgical care of the skin, hair, and nails.
​
About Banner Health
You want to help lead change in the health care field – rather than just react to it. You want to spend your time doing what you do best – caring for patients. You belong at Banner Medical Group (BMG) and Banner – University Medicine Group (BUMG).As Banner Health's employed physician group with more than 1,300 physicians and advanced practitioners across more than 65 specialties, BMG, is transforming the delivery of care. This transformation can most clearly be seen in our Patient-Centered Medical Home (PCMH) implementation. Through PCMH, we're organizing care around patients, working in teams and coordinating and tracking care over time. The end result is the highest quality and most efficient delivery of patient care.For physicians working in their own practices, we have two different paths to lead you to a colorful career with Banner Health.We also offer faculty positions at Banner – University Medicine Center in partnership with the University of Arizona.
---
Posted January 5, 2021