Internal Medicine 100% Outpatient - New Orleans
New Orleans, LA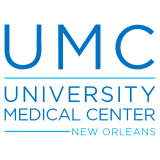 University Medical Center
Pinnacle Health Group
Key Info
Consider a 100% Outpatient Internal Medicine Opportunity at a Premier Health System in New Orleans Lifestyle Opportunity in the Big Easy
For details, please reply in strictest confidence to:
Mike Healy Direct / Fax: 404-591-4235 800-492-7771 Email: mhealy@pinnaclehealthgroup.com Cell / Text: 404-401-6322
Mention Code 200203 - IM
A commitment to education partnered with two perennial medical school universities
Expanding outpatient clinics to support double digit increase in admissions and ED visits
Robust compensation package including a base salary plus RVU Productivity
Sign-on bonus, relocation, student loan repayment and excellent benefits package
Numerous accolades, accreditations, and achievements including The Joint Commission Gold Seal of Approval
Practice in a state of the art five story ambulatory care building with 276 exam rooms
Minimum Requirements:
MD or DO Medical Degree
Eligible to be state licensed in the United States
United States Residency and / or Fellowship training
Explore unlimited cultural arts, dining and endless entertainment throughout the world famous French Quarter
Experience big city living with a small-town flavor
Choose from waterfront living, countless beautiful districts and historic neighborhoods
Attend NFL, NBA, NCAA and MiLB Sporting Events and enjoy endless celebrations and activities
Immerse yourself in a melting pot of culture, food and music and entertainment
Take a front seat for year-round festivals, including Mardi Gras and Jazz Fest
About Pinnacle Health Group
Pinnacle Health Group (PHG), one of the nation's largest full-service physician recruitment firms, was established in 1994. Headquartered in Atlanta, Georgia, our staff of professionals has proudly built a reputation on high quality, results-focused service and guaranteed results. We are dedicated to finding an opportunity that fits your professional expertise and offers a balanced lifestyle to you and your family. Our clients include hospitals, integrated delivery systems, physician groups, and managed care entities such as health maintenance organizations and physician practice management groups. As a member of the NAPR, our recruiters are ethical and knowledgeable. Hundreds of highly regarded healthcare systems across the U.S. seek physicians presented by Pinnacle.
---
Posted July 16, 2020
Covered
Not Covered