Pediatric Sleep Medicine at Banner Children's Medical Center
Mesa, AZ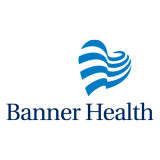 Banner Desert Medical Center
Banner Health
The Division of Pediatric Sleep Medicine at Banner Children's Specialists is seeking a board-certified/board eligible sleep medicine provider to join a growing sleep medicine program.
Some features of this practice include:
· The Banner Pediatric Sleep Program has two AASM accredited sleep labs with a combined total of 12 beds
· All sleep lab technologists are RPSGT and trained in pediatric sleep
· This is a clinic-based practice combining sleep study readings and work in sleep medicine clinics with opportunities to lead and grow the practice
· Our affiliation with the University of Arizona College of Medicine facilitates exposure to a sleep medicine fellow, medical students, and the opportunity to pursue an academic faculty appointment
· Applicants with dual specialties may be able to participate in those fields if interested
· There is no obligation for overnight or weekend call unless pulmonary call is desired
· There is an opportunity for program and administrative leadership if desired
Banner Children's Specialists primarily practices in two locations: Banner Children's at Desert Medical Center in Mesa, a state-of-the-art, 248-bed children's hospital opened in 2009, and Banner Thunderbird Medical Center in Glendale with 40 pediatric inpatient beds and the West Valley's most capable PICU, provide comprehensive pediatric care from general to emergency, as well as services for specific childhood diseases. Highly trained physician specialists, social services staff, and numerous integrative therapy programs ensure a complete range of care for children. We have a child-friendly atmosphere accented by soothing colors and dedicated play areas, as well as a volunteer dog therapy program that helps cheer up young patients during their stays.
About Banner Health
You want to help lead change in the health care field – rather than just react to it. You want to spend your time doing what you do best – caring for patients. You belong at Banner Medical Group (BMG) and Banner – University Medicine Group (BUMG).As Banner Health's employed physician group with more than 1,300 physicians and advanced practitioners across more than 65 specialties, BMG, is transforming the delivery of care. This transformation can most clearly be seen in our Patient-Centered Medical Home (PCMH) implementation. Through PCMH, we're organizing care around patients, working in teams and coordinating and tracking care over time. The end result is the highest quality and most efficient delivery of patient care.For physicians working in their own practices, we have two different paths to lead you to a colorful career with Banner Health.We also offer faculty positions at Banner – University Medicine Center in partnership with the University of Arizona.
---
Posted December 17, 2021