Emergency Medicine Physicians - Great opportunity to join a hospital-employed group
Owensboro, KY
Job Highlights
Loan Repayment or Assistance Offered
Non-Profit Employer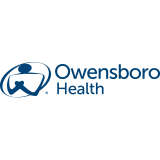 Owensboro Health Regional Hospital
Owensboro Health
Owensboro Health Medical Group will be transitioning our Emergency Medicine providers at Owensboro Health Regional Hospital into a hospital employed model, and will be seeking additional Board-Certified/Board-Eligible Emergency Medicine (ABEM, AOBEM) physicians.
Join our team of 12 physicians and 6 NPs/PAs who welcome an average of 50,000-55,000 annual ED visits. Our 40 bed, level 3 trauma unit is located in a cutting edge facility licensed for 477 beds where patient experience and quality care drive every decision for the 500,000 population we serve.
OPPORTUNITY DETAILS
186 Nine hour shifts annually
15.5 shifts per month on average
54 hours of physician coverage, 48 hours of APC coverage (PAs/NPs)
Staggered shifts, split proportionally between days, swing, and nights
Average 22 patients per day/per provider
40 ED bed unit includes 2 advanced technology OR grade Trauma rooms, 3 behavioral health rooms, and 7 fast track rooms
Opportunity to teach – Family Medicine Residency Program
EPIC EMR (fully integrated)
Certified sepsis, stroke, and ACS verified trauma center (Level III)
LOS below national average 3.8 hours
Level III NICU
Not responsible for admissions
Open to Experienced and/or New Emergency Medicine Residency Trained
Leadership and growth opportunities to further career
OWENSBORO HEALTH MEDICAL GROUP
A physician led, professionally managed group consisting of more than 250 providers (145+ Physicians 108+ NP's/PA's) across 35 specialties, providing access to care for patients in more than 25 locations throughout Kentucky and Indiana.
OWENSBORO HEALTH REGIONAL HOSPITAL
Owensboro Health Regional Hospital represents a new era of health care and wellness for the region. The newly built, $500 million dollar hospital and medical office building features a nine-story facility licensed for 477 patient beds, and offers views of lush green vistas and natural scenery from every room. In addition, highly advanced medical technology is easily accessible.
About Owensboro Health
Owensboro Health is a nonprofit health system with a mission to heal the sick and to improve the health of the communities it serves in Kentucky and Indiana. The system includes Owensboro Health Regional Hospital, nationally recognized for design, architecture and engineering; Owensboro Health Muhlenberg Community Hospital; Owensboro Health Twin Lakes Hospital; the Owensboro Health Medical Group comprised of over 120 Physicians and more than 100 Advanced Practice clinicians at more than 20 locations; three outpatient Healthplex facilities, a certified medical fitness facility, the Healthpark; a surgical weight loss center and program, and the Mitchell Memorial Cancer Center.
An average year in Owensboro's 477 bed hospital we have 16,000 inpatient admissions, deliver 2,000 babies and provide the region's only Level III NICU. Owensboro Health physicians perform nearly 24,000 surgical procedures, including nearly 200 open-heart surgeries. Our physicians and staff have 70,000 Emergency Department visits, more than a million outpatient visits annually. Visit our home page for more information.
---
Posted March 15, 2021