Full-time Pediatric Pulmonologist - Fort Worth, Texas
Fort Worth, TX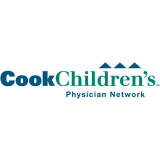 Cook Children's Medical Center
Cook Children's Health Care System
The Cook Children's pulmonology department is seeking an additional member to join a well-established group of 8 pulmonologists and 2 sleep physicians.  Our group provides inpatient and consultative services at a 443 bed pediatric hospital which includes 33 PICU beds, 106 Level 4 NICU beds, 10 neuro ICU beds and 14 CVICU beds. The pulmonary department runs a 16 bed technology dependent unit which is also connected to a neuro rehabilitation unit.  Our accredited CF center serves almost 200 pediatric patients with the assistance of 2 CF coordinators. Our CF TDN program is active with 2 research coordinators and a research assistant dedicated to us as well as the backing of a full research administration office.  Our accredited Sleep Center provides inpatient studies and has a 5 bed outpatient unit as well. Our sleep physicians and pulmonologists are also supported by a behavioral sleep psychologist. Multiple ancillary services are housed within our department which includes respiratory therapists, dietitians, social work, child life, and a clinical therapist.
For more information, contact Crystal Hernandez at crystal.hernandez@cookchildrens.org
About Cook Children's Health Care System
Cook Children's Health Care System is one of the country's leading vertically-integrated pediatric health care organizations. Cook Children's represents an award-winning, not-for-profit system of seamless health care designed to fulfill our Promise; "Knowing that every child's life is sacred, it is the Promise of Cook Children's to improve the health of every child through the prevention and treatment of illness, disease and injury." Based in Fort Worth, Texas, Cook Children's primary referral region includes Collin, Denton, Hood, Johnson, Parker, Tarrant and Wise counties, and the integrated system has more than 60 primary, specialty and urgent care offices throughout Texas, and has served hundreds of international patients, as well as those from all 50 states.
The medical center has 444 pediatric beds and treats infants, children, teens and young adult patients ages 0-21 throughout Texas, as well as nationally and internationally. At nearly 1.6 million square feet, the campus serves as the main site of Cook Children's Health Care System. This includes the medical center, Dodson specialty clinics and north and south inpatient towers. In addition to the main Fort Worth campus, other Cook Children's locations include multiple regional specialty clinics, urgent care centers, neighborhood clinics, primary care offices, surgery centers and home health offices. In 2019, Cook Children's expanded to provide services to families in Prosper, Texas. To date, services offered include primary care, ambulatory surgery, urgent care, specialty care, imaging and outpatient laboratory services. A medical center and retail pharmacy are scheduled to open in 2022.
We are one of the nation's premier private children's health care systems and have consistently been ranked by U.S. News and World Report within the top 50 Best Children's Hospitals. One of Cook Children's Medical Center's most prestigious awards is being Magnet® designated, the international gold standard of nursing excellence, four consecutive times. This makes the medical center the first free standing, pediatric hospital in North Texas, and the 10th in the world, to receive this prestigious designation.
Cook Children's Physician Network is the employed physician component of Cook Children's Health Care System, a pediatric system of care where physician leadership is fostered and physicians actively participate in the strategic goals and mission of the organization.
---
Posted June 15, 2021