Interventional Pain Medicine at Thriving Community Hospital in Central Pennsylvania
Lewisburg, PA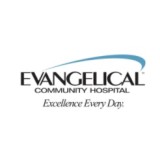 Evangelical Community Hospital
Evangelical Community Hospital
Key Info
Evangelical Community Hospital's growing employed physician group is seeking to recruit an Interventional Pain Medicine physician to join the team in a thriving hospital located in Lewisburg, PA.
Qualifications: Board Certified/Board Eligible and fellowship trained in Pain Management Rehabilitation, Physiatrist, or Anesthesiologist. Ideal candidate with EMG certification.
Partner with our employed Primary Care and Orthopaedic provider network to provide high level care to patients within the Central Pennsylvania region. Will be joining 1 Interventional Pain Physician and 1 PA.
Outpatient practice setting only. No hospital consultations required. No weekends.
Outpatient practice office includes procedure room with a dedicated fluoroscopy. Additional procedural setting in hospital-owned ambulatory surgical center.
Required to perform interventional pain procedures. Optional holistic medicine practice.
Accepting new graduates.
Compensation and Benefits
Competitive straight base compensation model.
Position includes full-time Benefits: Medical, Dental, Vision, Flexible Spending, Long Term Disability, Basic Life and AD&D, Extended Leave, access to 401k retirement plan and a defined pension plan.
Generous CME allowance and education time off.
Malpractice with tail coverage.
About Evangelical Community Hospital
Evangelical Community Hospital (ECH) serves the residents throughout the Central Susquehanna Valley, including those living in Lycoming, Northumberland, Snyder, and Union counties ECH is a non-profit, non-denominational hospital with an average of 6,800 admissions per year.
- In Fiscal Year 2017, ECH had the following clinical statistics: 903 births,
and 9,251 surgical procedures. ECH has strong philanthropic relationship
with its local communities.
- ECH encompasses 132 patient beds, which includes 18 bassinets, 12
acute rehab beds, 12 ICU beds, 17 step-down beds and 8 Pediatric beds
90 physicians and 74 advanced practitioners on staff including PAs, NPs,
CNMs, CRNAs and audiology.
- Employs over 1700 individuals
- Progressive, fiscally stable hospital located in Central Pennsylvania
ECH is located in beautiful Lewisburg, Pennsylvania, which is listed on the National Register of Historic Places, and is home to Bucknell University, making it a vibrant university town. Although Lewisburg is considered a "small" town, there is always something to do or see.
- Stroll down historic Market Street and eat at one of the eclectic
restaurants like Elizabeth's: An American Bistro, Caribbean Connection,
Siam, or Sushihanna.
- Spend an afternoon with your family shopping at one of our 47 unique
stores or take a look at what the town's museums, like the Lewisburg
Children's Museum or the Packwood House, have to offer.
- If you enjoy hunting, biking, hiking or fishing, ECH is 15 miles from Bald
Eagle State Forest.
- Bucknell's Weis Center for the Performing Arts brings nationally renowned
ballet, music and theater to the area. The community also features an
original 1941 Art Deco movie palace, The Campus Theatre.
- Top ranked public schools (top 4% in PA); low crime community; low cost
of living; no traffic!
---
Posted July 16, 2020
Covered
Not Covered