Texoma Medical Center Openings
Sherman, TX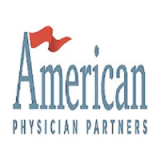 Texoma Medical Center
American Physician Partners
ER at Sherman is the region's only freestanding emergency facility operating under a hospital license. The facility is open 24/7 and features:
30 patients a day
12 or 24 hr shifts
Physicians on staff
A comprehensive range of services
Private exam rooms and pediatric treatment room
Diagnostic imaging, including CT scans, X-rays and ultrasound
A laboratory
Direct admission to Texoma Medical Center if needed, or transfer to a hospital of your choice
About American Physician Partners
American Physician Partners is a medical service organization that was formed to meet the need of hospital-based companies and hospitals throughout the United States. Led by experienced hospital operators and seasoned ER/Hospitalist Physicians, American Physician Partners has a unique perspective on the industry which sets them apart from traditional management companies.
---
Posted April 28, 2021