Tight knit Hospital growing their Hospitalist team
New Mexico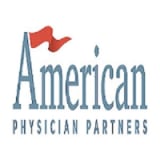 Eastern New Mexico Medical Group (FKA Eastern New Mexico Medical Center Physicians)
American Physician Partners
If you are looking for a new practice opportunity where you can be part of a winning team and work in an environment where you can practice your skill to the highest level, then we encourage you to explore our practice opportunities. With more than 150 healthcare professionals strong and a 162-bed facility complete with inpatient and outpatient care, Eastern New Mexico Medical Center serves the surrounding community with exceptional care and compassion. Our work does not go unnoticed-we have been recognized for our efforts in numerous ways. ENMMC is an accredited chest pain center as well as a Level III certified trauma center. Currently, we are looking for a Hospitalists to join an environment that is focused on teamwork, designed to create an exceptional patient-centered care experience, and grow our APP family. Please consider American Physician Partners for your next move.
Work/life balance
Schedule is 7 on/7 off; 12-hour shifts
ICU is closed; hospitalists do not round in ICU
Roswell is the fifth largest city in New Mexico, with a population of about 50,000
Outdoor enthusiasts never get bored here, and if you enjoy the arts, you will be happy to discover a thriving arts community here.
Life Style & Site Details :
EMR is Meditech
Open to sponsoring J-1 or H-1 visa
Roswell is in the southeastern quarter of New Mexico, about three hours away from Albuquerque
Roswell, NM is great for families. You and your family can check out our awesome planetarium and other attractions, shop and eat at our farmer's market, and participate in our local youth sports teams. And with our fantastic festivals (like our Chile Cheese Festival and UFO Festival) and other entertainment like the Eastern New Mexico State Fair and Parade, you will keep yourself busy during your leisure time.
About American Physician Partners
American Physician Partners is a medical service organization that was formed to meet the need of hospital-based companies and hospitals throughout the United States. Led by experienced hospital operators and seasoned ER/Hospitalist Physicians, American Physician Partners has a unique perspective on the industry which sets them apart from traditional management companies.
---
Posted June 18, 2022