Emergency Physician MercyOne Des Moines Medical Center
Des Moines, IA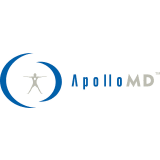 MercyOne Des Moines Medical Center
ApolloMD
We have a rare opening on our amazing ED team at MercyOne Des Moines. If you would like to be part of a stable group with outstanding resources and compensation let me know the best way to reach you or feel free to call me at your convenience. You can reach me anytime at 847-571-9080.
MercyOne Des Moines
• 55,000 Vol
• 802- Bed acute care facility
• Chest Pain and Stroke Center
• Level II
• Cerner/Scribes
• 64 hours of Physician Coverage/28 hours APP Coverage
If you would like to send me your CV that would be great!
​
Best,
Andrea
About ApolloMD
Physician-owned, ApolloMD provides Emergency Medicine, Hospital Medicine, Anesthesia, and Radiology services. Physicians enjoy a rewarding practice setting with flexible scheduling, top income, leadership training, and diverse career paths. Through the Preferred Partnership Program, each full time physician has the opportunity to become an owner with a guaranteed rate of return.
---
Posted October 12, 2021