Join our Surgical Hospitalist Team
Puyallup, WA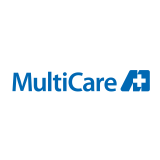 MultiCare Good Samaritan Hospital
MultiCare Health System
Key Info
Physicians affiliated with MultiCare are recognized as being among the best healthcare providers in the Northwest Region with an expansive primary care clinical network as well as both adult and pediatric specialists providing easy access for patient consultations right here in the community. Here, you will find everything you need to excel in your job including outstanding facilities, comprehensive resources and talented teammates who share our mission of "partnering for healing and a healthy future." MultiCare has been recognized for over a decade as one of the "most wired" health systems in America. Our Epic, EMR is available for both inpatient and outpatient providers to keep our staff better connected.
The Opportunity:
MultiCare Health System seeks a full-time Surgical Hospitalist to join our Good Samaritan team. If you enjoy a fast paced hospital setting this is the position for you!
Desirable 7 days on / 7 days off - 12:00 pm – 10:00 pm shift
State of the art hospital and excellent administrative leadership support
Fantastic team with great APP and OR team support
Competitive salary, a full array of benefits and a great location makes this an ideal choice for the provider who is looking to experience the best of Northwest living from big-city amenities to the pristine beauty and recreational opportunities of the great outdoors.
Experience Profile:
Board certified or board eligible by time of employment
Post training experience as a Surgical Hospitalist with trauma background is preferred
Licensed in WA by the time of employment
DEA, NPI & prescriptive authority
Current BLS for Healthcare Providers certification by the American Heart Association
Questions:
Contact Sheree Farr at: smfarr@multicare.org
MultiCare is an equal opportunity employer. Hiring decisions are made without regard to race, color, religion, national origin, sexual orientation, gender identity, disability, veteran status or age.
About MultiCare Health System
At MultiCare, we've been caring for our community for well over a century, since the founding of Tacoma's first hospital. And today, we are the largest not-for-profit, community-based, locally governed health system in the state of Washington. With more than 18,000 team members, including employees, providers and volunteers, we work together to support the health and wellness of the communities we serve.
---
Posted October 6, 2020
Covered
Not Covered