Join our Critical Care team in beautiful Longview, Washington
Longview, WA
Job Highlights
Loan Repayment or Assistance Offered
Non-Profit Employer
No State Income Tax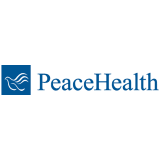 PeaceHealth St. John Medical Center
PeaceHealth
PeaceHealth Medical Group is seeking a Pulmonary/Critical Care physician for practice at St. John Medical Center located in Longview, Washington. If you thrive in the great outdoors but enjoy quick access to big city amenities, our practice would be a great place for you!
Why you'll love the practice:
Join an established team of 4 Pulm/CC Physicians.
4 day work week includes 5 half day clinics.
Call frequency is 1:4.
Clinic and ICU in the same facility.
Fully equipped PFT lab and ACU on site.
Nursing and ancillary support
Respiratory Techs on hand
Sleep Medicine is a separate department with different providers.
Why you'll love Longview:
Forbes magazine listed Longview as one of the prettiest towns in America due to its proximity to the Columbia River and Mount St. Helens and beautiful local parks.
Our town is situated 45 miles north of the Portland metro area and 120 miles south of Seattle.
Outdoor lovers will enjoy quick access to the Pacific Ocean, Mount St. Helens, as well the never-ending outdoor recreational options in the Pacific Northwest.
Longview has affordable, brand new housing well below the prices of the nearby metros.
Longview was founded near the Columbia River which supports the thriving lumber and marine industries that still exist there today.
Washington State has no income tax.
Hospital Highlights:
PeaceHealth St. John Medical Center is a 346-bed hospital with Level III trauma center
Recognized with a Beacon Award for critical care outcomes
The service area for this community is over 100k
Recently named one of Forbes Magazine's prettiest American cities and a Tree City USA, is Longview Washington, an ideal location on the Columbia River and next to beautiful forests is just 40 miles north of Portland, Oregon, 2 hours south of Seattle, and a short drive to the beautiful Pacific coastline and year round adventures on Mt Hood, Mt Rainier, Mt St Helens and Mt Adams.
---
Posted December 7, 2021