Regional ED Medical Director - Knoxville TN
Knoxville, TN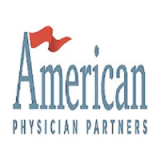 Tennova North Knoxville Medical Center
American Physician Partners
Key Info
Opportunity:
American Physician Partners is presently seeking
qualified physicians for this contract:
• 36,000 volume
• Flexible schedule
• 2 Physicians on daily – 1 Physician Nocturnist
• APC support
• EMR: Cerner
​
Facility:
North Knoxville Medical Center is a full-service
acute hospital offering private patient rooms with
dedicated family areas. In addition, the hospital
has technologically advanced information and
communications systems, decentralized nursing
stations for better efficiency and patient care and
noise reduction materials to provide patients with
a more comfortable experience.
​
About American Physician Partners
American Physician Partners is a medical service organization that was formed to meet the need of hospital-based companies and hospitals throughout the United States. Led by experienced hospital operators and seasoned ER/Hospitalist Physicians, American Physician Partners has a unique perspective on the industry which sets them apart from traditional management companies.
---
Posted September 30, 2020
Covered
Not Covered