Medical Director - Hospital Medicine / Tennova Cleveland
Cleveland, TN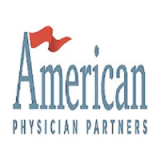 Tennova Healthcare - Cleveland
American Physician Partners
Key Info
Facility
Tennova Healthcare - Cleveland is a 351-bed
facility serving the Bradley County community and
surrounding areas. Accredited by the Joint
Commission, it is also an accredited Chest Pain
Center, as recognized by the Society of Chest Pain
Centers. Tennova Healthcare - Cleveland offers a
full range of healthcare services, including a 7,000
square foot, 24-hour emergency care unit.
​
Opportunity
American Physician Partners is presently seeking
qualified physicians for this contract:
• Block schedule: 7 on/7 off
• 7 physicians on daily, 1 physician Nocturnist
• APC support
• Open ICU
• Procedures optional
• Hospitalist run codes
• EMR: Cerner
​
About American Physician Partners
American Physician Partners is a medical service organization that was formed to meet the need of hospital-based companies and hospitals throughout the United States. Led by experienced hospital operators and seasoned ER/Hospitalist Physicians, American Physician Partners has a unique perspective on the industry which sets them apart from traditional management companies.
---
Posted September 30, 2020
Covered
Not Covered