Join Psychiatry Team at Everett Clinic
Near Everett, WA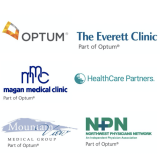 The Everett Clinic - Smokey Point
Optum
Key Info
Join The Everett Clinic's supportive and collegial team of more than 30 physicians, NPs, counselors and support staff specializing in behavioral health in the Everett Marina, WA area! We need a Psychiatrist experienced in adult, child, or both.
Elaborate support services - Robust therapist practice (30+ providers), case management, medical and administrative support staff.
Multidisciplinary practice with primary care and specialty services consultation & collaboration
BENEFITS & COMPENSATION: Competitive salary with sign-on bonus, relocation expenses, 4 weeks+ vacation, 2 weeks CME with generous stipend, Malpractice and Tail insurance, professional dues, health, life and disability insurance, retirement plans, and more
About Optum
Our family is excited to join Optum!
Ahead of us is a world of opportunity. We're changing health care for the better by improving access to affordable, high-quality care, and working together to improve the patient experience. That takes passion, commitment, intense focus and the ability to contribute effectively in a highly collaborative team environment. All of this together is your time to do your life's best work.
---
Posted August 6, 2020
Covered
Not Covered