Family Medicine opening near Vancouver, WA/Portland, OR
Longview, WA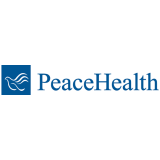 PeaceHealth St. John Medical Center
PeaceHealth
Key Info
At PeaceHealth, Our Vision is that every person receives safe, compassionate care; every time, every touch. If you are looking for a community that offers amazing outdoor recreation but enjoy quick access to big-city amenities, then our rural practice could be a great place for you! Longview, Washington is perfectly nestled in between Portland and Seattle.
Why you'll love the practice:
Join a robust primary care team of close to 40 providers.
Schedule: 4 clinic days/work week and the 5th day is for charting.
100% Outpatient, seeing ~22 patients per day and provider preference Medical Assistant
Adult Call 1:15: Nighttime phone call from nursing homes, and one weekend working at same-day clinic once per quarter.
NCQA Level II Medical Homecare teams
Experience Longview, Washington:
Forbes Magazine listed Longview as one of the prettiest towns in America due to its proximity to the Columbia River, Mount St. Helens National Volcanic Monument and many beautiful local parks. Lake Sacajawea, directly across from St. John Medical Center is in the heart of Longview. A gravel trail circumnavigates the lake and is just under 4 miles and can offer a quick, refreshing break on a busy day
PeaceHealth Benefits & Culture:
Competitive compensation guarantee, a generous signing bonus and relocation assistance.
Up to $120,000 in Educational Loan Reimbursement for those who qualify.
PeaceHealth provides fully paid malpractice insurance, Life and Disability insurances.
Exceptional retirement plans, two excellent health coverage options, plus vision, dental and supplemental options.
Employee Wellness Program with FitBit options and up to $400 annually in incentives for healthy lifestyles.
Integrated physician-led medical group.
---
Posted September 22, 2020
Covered
Not Covered