Outpatient Focused Pulmonary Practice with Optional Sleep Medicine, No Critical Care at Chesapeake Regional Healthcare
Chesapeake, VA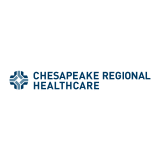 Chesapeake Regional Medical Center
Chesapeake Regional Medical Center
Job Highlights
High Earning Potential
Loan Repayment or Assistance Offered
Flexible Schedule
Chesapeake Regional Healthcare has a Pulmonary opening in the beautiful city of Chesapeake as an employed provider within our hospital medical group (CRMG). Our physician-led organization is a top-tier, high-performing multi-specialty group that brings together over 85 providers to deliver quality and compassionate care to our surrounding communities. This position is full-time with flexible hours. The current team of one physician and one nurse practitioner is collegial and innovative.
Benefits:
Practice is 100% Pulmonary
Mostly Outpatient with Some Inpatient Consults
Guaranteed and Competitive Compensation with additional Bonuses
H1B-J1 Visa Holders Welcome to Apply
Estimated Compensation Range: $325,000 - $375,000
Quality Bonuses Available in 1st year
$60,000 in Student Loan Repayment (CRH is a 501(c)3 non-profit)
$2,500 in Monthly Residency Stipends
$25,000 Sign-On Bonus
Relocation Assistance of $10,000
Retirement Package with Matching Contribution
Comprehensive Benefits Package
Paid Leave
Paid CME/Licensure and Malpractice Insurance/Tail Coverage
Board certification in Pulmonary Medicine required, Sleep Medicine optional
Employed position with a large integrated health system
This position includes outpatient clinic, inpatient pulmonary consults, and optional wide variety of pulmonary procedures (EBUS, Navigational Bronchoscopy, Thermoplasty, etc).
ABOUT THE COMMUNITY
Chesapeake Regional Medical Center is in one of the nation's safest communities filled with outstanding schools, miles of friendly, tree-lined neighborhoods, and outdoor recreation - all just minutes from the sandy shores of Virginia Beach and vibrant downtown Norfolk, and one hour from the Outer Banks of North Carolina. Bike, swim, sail, kayak, fish, or just relax on our miles & miles of sandy beach.
CONTACT INFORMATION
Stefanie Garbarino
PHONE: (757)-375-8127
EMAIL: stefanie.garbarino@chesapeakeregional.com
​
About Chesapeake Regional Medical Center
As a unified family of providers, Chesapeake Regional Healthcare brings a broad range of care to the people of southeast Virginia and northeast North Carolina through Chesapeake Regional Medical Center and its affiliate services. A local, independent, community-focused organization, Chesapeake Regional Healthcare offers area residents what they want: high quality, technologically advanced health care delivered by people who openly display their caring, concern and compassion.
Chesapeake Regional Healthcare is rolling out new technologies, state-of-the-art facilities, breakthrough clinical protocols, leading edge electronic information systems and powerful wellness initiatives to make each patient's care faster, safer and more effective. This results in better patient outcomes, higher satisfaction, more holistic treatment and fewer complications.
As an independent health care system, Chesapeake Regional Healthcare is free to focus, invest, optimize and deliver care by enabling all of our clinicians, staff and employees to treat each of our patients as a person. And we continue to be recognized with praise and awards from national organizations. Chesapeake Regional Healthcare provides exceptional, compassionate health care right in your own backyard.
---
Posted June 23, 2022