Endocrinology outpatient: hospital-employed clinic seeking endocrinologist to join busy practice
Owensboro, KY
Job Highlights
Loan Repayment/Assistance
Not for Profit Employer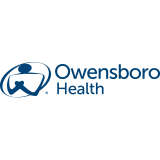 Owensboro Health Regional Hospital
Owensboro Health
Owensboro Health is seeking an endocrinologist for a comprehensive, outpatient-only opportunity. The new physician will join another endocrinologist and nurse practitioner working alongside tenured nutritionists, dietitians and other dedicated support staff.
The regional health system's service area covers 18 counties across western Kentucky and southern Indiana with a population draw of over 500,000 of high prevalence of obesity, metabolic syndromes, thyroid disease and diabetes patients.
Physician leaders support the medical group providers with a focus and commitment to quality, safety, and a work schedule to avoid burnout and enjoy a healthy work/life balance.
Clinic hours are Monday through Friday from 8 a.m. to 5 p.m. No Call, outpatient only
Health system-employed with integrated Epic EMR in clinics and hospitals
Excellent specialty backup support - we cover everything except burns and transplants.
Family Medicine Residency affiliated with the University of Louisville School of Medicine; teaching opportunities available
Seeking board-certified/board-eligible candidates; experienced physicians and those still in training are encouraged to apply
​
​
​
​
About Owensboro Health
Owensboro Health is a nonprofit health system with a mission to heal the sick and to improve the health of the communities it serves in Kentucky and Indiana. The system includes Owensboro Health Regional Hospital, nationally recognized for design, architecture and engineering; Owensboro Health Muhlenberg Community Hospital; Owensboro Health Twin Lakes Hospital; the Owensboro Health Medical Group comprised of over 120 Physicians and more than 100 Advanced Practice clinicians at more than 20 locations; three outpatient Healthplex facilities, a certified medical fitness facility, the Healthpark; a surgical weight loss center and program, and the Mitchell Memorial Cancer Center.
An average year in Owensboro's 477 bed hospital we have 16,000 inpatient admissions, deliver 2,000 babies and provide the region's only Level III NICU. Owensboro Health physicians perform nearly 24,000 surgical procedures, including nearly 200 open-heart surgeries. Our physicians and staff have 70,000 Emergency Department visits, more than a million outpatient visits annually. Visit our home page for more information.
---
Posted July 1, 2021