Advanced/Transplant Hepatology Opening with Banner Health
Tucson, AZ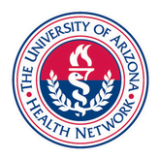 Banner - University Medical Center Tucson
Banner Health
Key Info
The Division of Gastroenterology and Hepatology at the University of Arizona and Banner University Medical Group is recruiting BC/BE Advanced/Transplant Hepatologist to support the transplant hepatology program. This is an excellent opportunity to work in an innovative academic environment, collaborating with our Liver Transplant Medical Director and our outstanding Hepatology team.
Qualifications include:
AZ medical license (or eligible to obtain)
BC/BE GI & Hepatology, plus BC/BE in Transplant Hepatology
Must have interest in pursuing eligibility/certification by UNOS
Candidates with experience in liver transplants preferred
Essential functions include:
Care for general liver & liver transplant patients in both Inpatient & Outpatient settings.
8-12 IP per day
18-24 OP per day
Routine procedures such as colonoscopy/EGD, in addition to shared coverage of hepatology and transplant liver service
Co-management of ICU transplant patients
Immediate post-transplant care
Long term care of transplant patients
Candidate must be flexible, as our program is the region's designated transplant facility. Daily/weekend call is expected.
Qualified candidates will receive a faculty appointment to the University of Arizona consistent with their credentials.
Banner University Medical Center – Tucson:
Nationally recognized for providing exceptional patient care, teaching future health-care professionals and conducting groundbreaking research
The hospital's physicians are full-time faculty of the University of Arizona College of Medicine – Tucson
Our specialty services include comprehensive heart and cancer care, advanced neuroscience techniques and a multi-organ transplant program
Diamond Children's Medical Center is located on the campus providing specialized pediatric services including neonatal and intensive care, emergency medicine and cancer therapies
We are Southern Arizona's only Level 1 Trauma Center, caring for the most critically injured patients
About Banner Health
You want to help lead change in the health care field – rather than just react to it. You want to spend your time doing what you do best – caring for patients. You belong at Banner Medical Group (BMG) and Banner – University Medicine Group (BUMG).As Banner Health's employed physician group with more than 1,300 physicians and advanced practitioners across more than 65 specialties, BMG, is transforming the delivery of care. This transformation can most clearly be seen in our Patient-Centered Medical Home (PCMH) implementation. Through PCMH, we're organizing care around patients, working in teams and coordinating and tracking care over time. The end result is the highest quality and most efficient delivery of patient care.For physicians working in their own practices, we have two different paths to lead you to a colorful career with Banner Health.We also offer faculty positions at Banner – University Medicine Center in partnership with the University of Arizona.
---
Posted August 25, 2020
Covered
Not Covered